GCE A LEVEL
Introduction to Course
At KS5, we offer A Level Fine Art, A Level Photography and A Level Textiles- a natural progression from GCSE and the chosen area in which pupils have specialised in- Fine Art, Photography and Textiles.
The course delivered is OCR Art & Design: Fine Art (H601), OCR Art & Design: Photography (H603), and OCR Art & Design: Textiles (H604)
Pupils will need to submit 2 projects to attain the A Level course: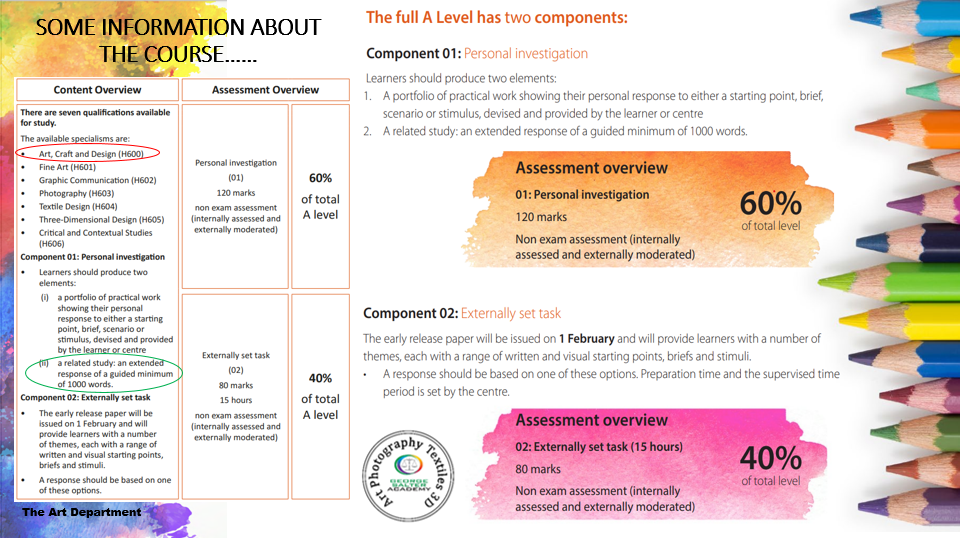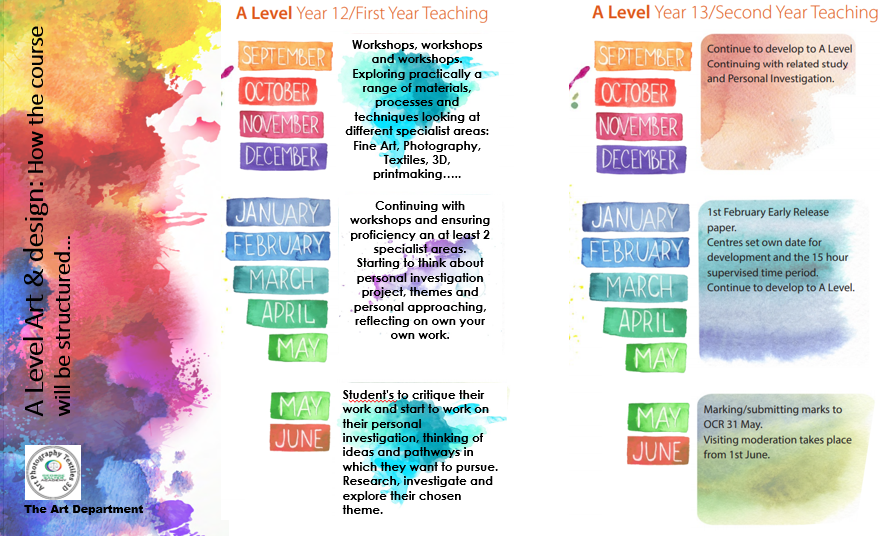 The major difference between GCSE and A Level is the level of sophistication of the skills demonstrated and the ideas that are underpinning a project.
A2 is more independent where pupils have the ability to choose their topic, areas of interest and the focus skills in which they will explore and demonstrate expert skill in. This independence of thought allows them to cultivate their own ideas and their practice, not only benefiting their Art work, but allowing them to build and develop transferable skills that will be beneficial across all subject areas. Developing employability skills and maturity- vital for success whichever route they decide to take- further education or employment.
Exam Board/Specification
OCR
GCE Art & Design: Fine Art: H601, Photography: H603 and Textiles: H604
Progression Routes
Where to next? Career Opportunities
Foundation course leading to a BA (Hons) degree in anything art-based that links to your chosen endorsement.
For example:
Fine Art: painting, drawing, sculpture, print-making, ceramics, woods/metals and plastics, illustration etc.
Photography: film, animation, games design etc.
Textiles: fashion design, illustration, surface pattern etc.