Who are we?
At George's the personal, social and emotional welfare of our students is of paramount importance which is why the issue of anti-bullying is high profile in the running of our Academy. We believe it is important to keep this issue high profile and continually promote a zero tolerance of bullying at our Academy.
Some of the ways we address this are through:
PSHE Curriculum
Anti-Bullying Week
Flexible Learning Week Programme
Peer Mediators
Form Tutor Mornings
House Noticeboards
Assemblies
Student Voice Lunches
Fundraising
House Council
Academy Anti-Bullying Logo
Parent Focus Group Meetings
Our Academy ethos is that every child has the right to feel happy and safe with students/staff/parents/carers having a responsibility to work collectively to ensure this happens.
The GSA Anti-Bullying Charter
Please see below our 2020/21 Anti-Bullying Charter. This is a statement from GSA outlining both our responsibilities as an Academy and what we expect from our students. We also have a video from a fantastic group of staff and students reading the charter aloud.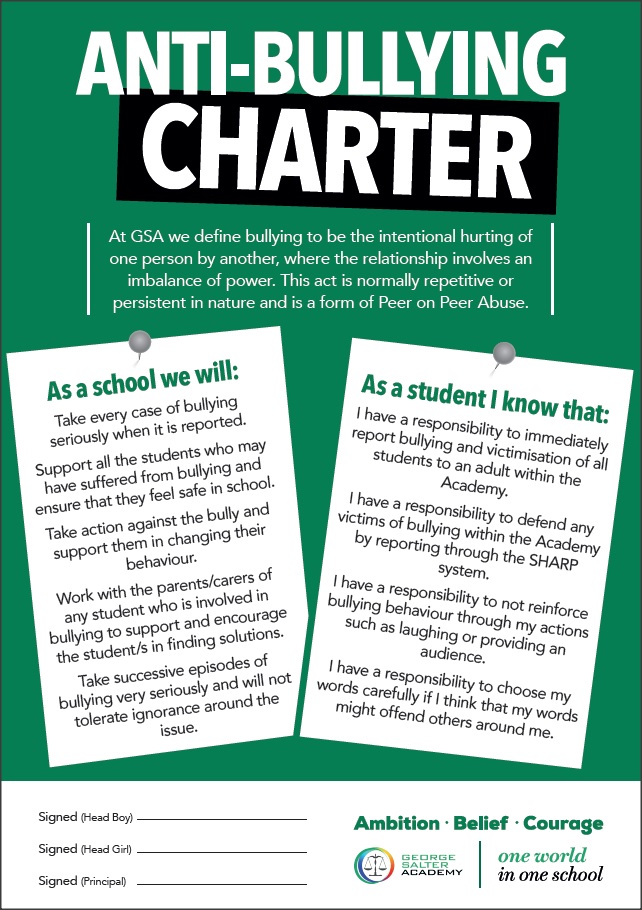 ---
Please find linked below some safety tips/resources we think parents/carers might find useful.