In accordance with Education Funding Agency (EFA) guidance and to ensure that we are compliant with academy financial regulations, the data below pertains to the appointment and service of each of our governors.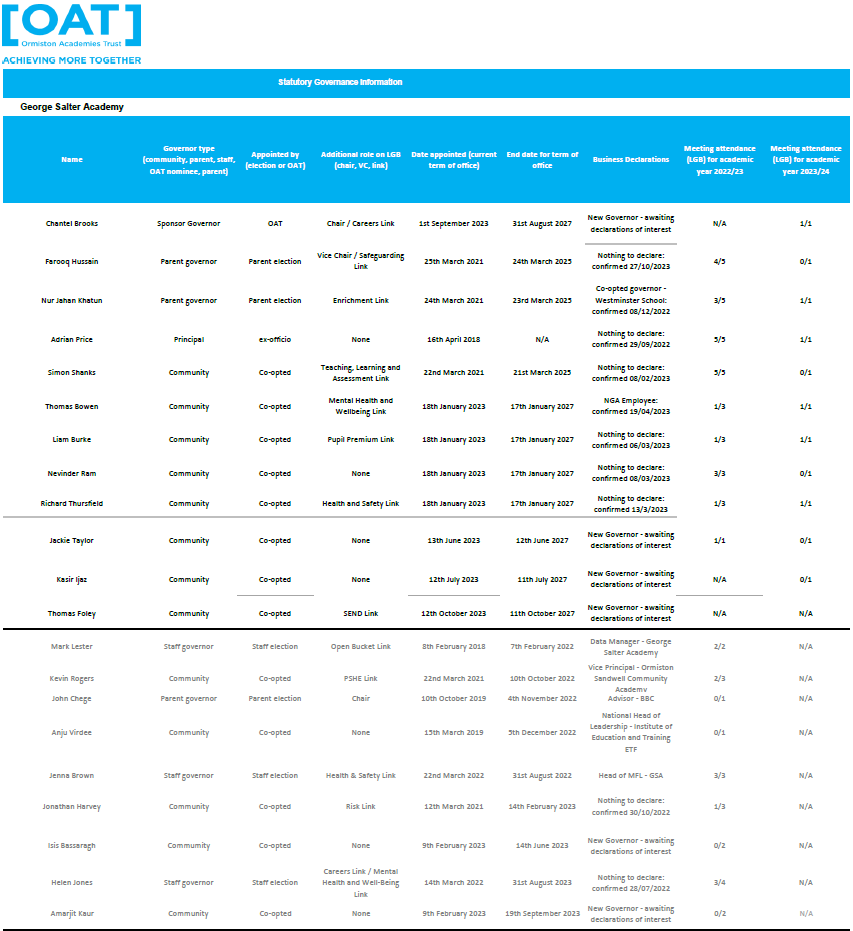 Click here to download table as a PDF.
Ormiston Trust, OAT's parent company, is a charity and grant-making trust dedicated to improving the life chances of children and young people who face disadvantage.
Ormiston Trust (OT) was founded by Peter Murray in 1969 in memory of his sister Fiona Ormiston Murray.
In 2006 the Ormiston Trust became an academy sponsor, aiming to increase educational opportunity for all young people and to narrow the attainment gap. Through its subsidiary, Ormiston Academies Trust, OT is now responsible for a network of primary and secondary schools across the country from Grimsby to the Isle of Wight. Work in Ormiston academies is underpinned by a set of shared values including a commitment to parental and community engagement.
Ormiston Academies Trust Governance Charter including Scheme of Delegation
OAT is a charitable, voluntary organisation which relies on the valuable input of a considerable number of non-executive volunteers, supported by an experienced team of staff. OAT is a large multi-academy trust that covers a sizeable geographical area. The Trust has been moving towards a more regional model of governance in order to better support school improvement.
In the OAT governance model, each academy is ultimately governed by the Board of Trustees. Ormiston Academies Trust will establish for each academy, a Local Governing Body. Local governance is delivered through these Local Governing Bodies, who are made up of staff, parents, local community members and a trust representative. National Governance is set by the Board of Trustees and delivered through the National Executive Team and the Regional Directors, on behalf of the Board.
Click here to view the OAT Scheme of Delegation.
Click here to view the OAT Local Governing Body Terms of Reference.
Become a Governor
If you are interested in becoming a governor, please follow the link to the "Be a governor" page on the OAT Careers website, below, and complete the expression of interest form at the bottom of that page.
Click here to visit the OAT Careers website, for further information on becoming a governor.
---
Should you wish to contact the Local Governing Body, please do so via the following:
The Clerk can be contacted via email:

[email protected]

The Vice Chair of Governors can be contacted via email:

[email protected]

or post: FAO Chantel Brooks – Chair of George Salter Academy, Davey Road, West Bromwich, B70 9UW.
If you would like to make a complaint in regards to the Academy, please send an email to [email protected]. You can view our Complaints Policy here.