Library
The library is the centre of learning within the academy as all subjects and year groups have access to it. Students can explore and borrow hundreds of current and interesting books. There are sections for fiction, non-fiction and The Millennium Library of Literature, which consists of classics texts such as Shakespeare and Jane Austen.
We have a KS3/4 weekly reading club in the library and a staff and student book club held half termly.
We hold a variety of literary competitions throughout the school year to encourage creativity and writing within our students. Some are linked to events such as World Book Day and Shakespeare Week whereas others link to a certain subject topic or inter-house competition.
Form Time Reading
Every year group has one form time per week dedicated to reading. Students can bring in books from home or borrow from the classroom book box/library. All year groups are encouraged to discuss what they are reading with one another and staff.
Year 7 form groups collectively read the same book during form time as a way to promote reading, oracy and understanding of character education. The chosen reads for the current school year are 'Looking for the Stars' by Lewis Hine, 'The Diary of a Young Girl' by Anne Frank and 'Every Falling Star' by Sungju Lee.
Accelerated Reading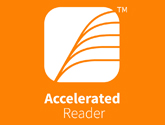 Years 7 and 8 take part in Accelerated Reading as a way to track and monitor their reading level, this allows teachers to give additional help to students who need it through interventions. Year 7 students have a period each week in English dedicated to reading and literacy.
Accelerated Reader is a computer-based program that the academy uses to monitor reading practice and progress. It helps teachers guide students to books that are on their individual reading levels. Students take short quizzes after reading a book to check if they've understood it and receive credits as a reward. As students move through the school year and progress, their book level improves and they move on to higher book levels.
At the end of the school year we hold a 'Celebration of Reading' evening where we celebrate students who have shown great determination, improvement and commitment to their reading. The program therefore supports our core values of ambition, belief and courage.
Accelerated Reading Parent Guide
Reading Support
KS3 students who need extra help with reading are identified through Accelerated Reading, subject testing and lesson time are invited to attend reading support during form time and weekly library lessons.
Year 11 students have additional English booster sessions to go over GCSE texts and poetry to ensure they are confident in the content before exams begins.
Students with SEND have targeted support using 'Everyone Can Read' and 'Booster Reading', this allows staff to measure progress and help improve reading ages.